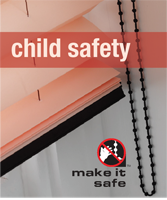 Blind cord safety has been on the agenda for some time, with RoSPA leading a long-term campaign to improve saftey. However, despite this campaign and other efforts to raise awareness of the dangers of looped blind cords, the UK has actually seen a rise in deaths related to blind cords in recent years.
However, early 2014 will see a tightening of the regulations governing the supply of new blinds,  mandating the inclusion and testing of child safety devices at the point of manufacture, together with maximum cord and chain lengths.
All school blinds supplied by Schools Direct already incorporate these safety features into our school, and so we welcome their passing into law to ensure that all blinds fitted in future will be as safe as possible.
However, there is obviously still a large base of installed school blinds whose designs don't incorporate such features, and so we urge all our customers to remain vigilant in the use and maintenance of their blinds to help make sure that accidents are avoided.
If you have any questions about the new regulations, or the use of your existing school blinds, Schools Direct would be delighted to help .
Key regulation points at a glance
Safety devices for preventing any cords or chains from forming a hazard
The testing of all safety critical items of internal blinds
The testing of blinds using safety devices
The installation of safety devices on the product at the point of manufacture
Maximum cord and chain lengths
Warnings and instructions on packaging and point-of-sale