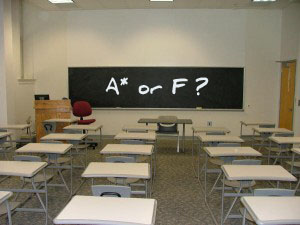 We have of course always believed that the right school blinds and curtains can make a positive difference to your classrooms.
However, recent academic work seems to prove that the differences in teaching environments can have a far greater measurable effect than we imagined.
The study by the University of Salford looked at various environmental factors, such as lighting and colour schemes, to determine what makes up an effective teaching environment . Their conclusions were pretty startling – that these factors alone can make a difference of up to 25% in academic achievement. To put it another way, a full year of academic development can be gained or lost between the most and least effective classrooms.
Changing focus from the '3 R's' to the Four Walls
The implications of this must be quite incredible for schools. At a time when when faced with the ever more difficult balancing act of improving performance while facing reductions in resources, we learn that a significant element of the learning potential lies not in the hands of the teachers, but of the classroom itself. For us, it shows that our products go even further beyond aesthetics and usefulness. The right school blinds can, alongside other factors, help to genuinely add value to pupils.
The study is ongoing, so it will be interesting to follow and see if broader research confirms these findings. In the meantime, there seems to be a genuine benefit in working an achieving that effective environment identified by the study.
If you would like to see if you can improve or upgrade your school blinds or curtains in a bid to ensure your classrooms are at the top of the pile, we would love the chance to help. Please click the link below to request more information. 
http://schoolblinds.co.uk/classroom-design-study.html
p.s. Did you know that we also offer a decorating service for even more enhanced classrooms?